POCO Launcher or Poco Launcher by Xiaomi is a new launcher on Google Play. The app was considered as one of the best apps released in 2018 by Android Authority. Within two years it has got over 10 million downloads. Microsoft Launcher, on the other hand, is an old launcher with over 10 million downloads. The numbers do show that POCO launcher has got to the position within two years where it took Microsoft Launcher over four years. But, numbers don't prove any app better. So, how both differ? What makes them useful? In this blog post, we are covering POCO Launcher vs Microsoft Launcher and see which one is better.
Home screen
Starting with the interface, there are a few differences. Microsoft Launcher comes with your feed, dock, and Cortana settings, while POCO offers a customised Google search row with a few icons on the home screen. It also provides a RAM clear option which can be seen in the above image on the bottom-right. The percentage shows the total rate of RAM used. You also get to see a POCO settings icon to customise the launcher.
Going back to Microsoft Launcher, your feed is a section which comes with news, weather, cards, timeline, app activity and more, while the dock is a menu which you can open by swiping up from the bottom of the home screen. The dock comes with a few apps and some system settings.
You might have heard of scrolling effects, well launchers such as Nova Prime offer those. POCO also comes with a few to customise the home screen. Holding on the home screen shows a settings button in which we can change the transition (scrolling) effect. The launcher app comes with slide, crossfade, tumble, and page style effects. Microsoft Launcher uses the good old slide effect.
App drawer
POCO comes with some great features in the app drawer. The search bar is on the bottom, and it comes with multiple tabs. Although the main tab contains all the apps, it also categorises the drawer in communications, entertainment, photography, tools, news, personalisation, knowledge, and possibly in others depending on the apps you have. You can also add or delete categories in the settings.
Furthermore, there is an option to group apps by colour. The feature is only visible in the main tab and touching on each colour displays that colour apps. The first row shows the most used and recent apps, but you can disable that in POCO settings.
Meanwhile, Microsoft Launcher shows recent apps as well as newly installed apps. Microsoft Launcher may not offer categorised tabs, but it comes with hiding apps feature. The app comes with options to hide apps from the drawer, hide from the search results, and you can set the passcode so no one can see your hidden apps.
---
---
Gestures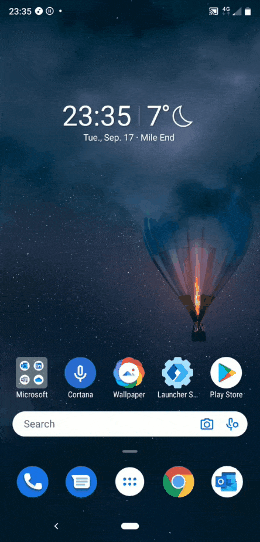 POCO does not offer gesture settings, but it comes with an option to lock the phone on double-tap. Microsoft Launcher, on the other hand, comes with gesture features, including Android 10 ones. With the help of gestures, you can do many things straight on the home screen. Let's cover what gestures Microsoft Launcher supports and what can we do with those gestures.
Notifications
Both support numbered and doted notifications. Microsoft Launcher comes with an extra option to enable or disable notifications for each application. To get the notifications for messages, calls, and contacts, you will need to change the assist focus app to Microsoft Launcher.
---
---
Themes
Both offer light and dark themes with an option to adjust the background transparency.  Microsoft Launcher offers to use the system and a separate transparent theme where you can also adjust blurriness and opacity along with transparency. POCO provides an option to change the transparency in both light and dark themes.
App details
Both are available to download from Google Play. POCO Launcher has an average rating of 4.7 from over 280K users. Microsoft Launcher contrarily has an average rating of 4.6 from over a million users. POCO Launcher occupies 23 MB of storage while Microsoft Launcher occupies 84 MB of storage.
Both apps require necessary permissions, but for all the features, you will need to allow both the launchers to be the default and admin app of the phone.
---
---
Other features
The last part of POCO vs Microsoft Launcher is covering some of the unique features which might make a difference.
POCO Launcher
The app allows you to change the number of apps on each row in the app drawer.
You can also change apps' size in the app drawer.
Microsoft Launcher
The app allows you to select multiple apps in the app drawer.
You can back up and restore the app's settings and customisation.
It provides daily Bing wallpaper.
You can customise the icons and folders look.
Choose a vertical, horizontal, or alphabetical grid view.
Search for settings the launcher settings.
Which one is better?
That's a million-dollar question. Regarding the features and functionality, I still prefer Microsoft Launcher, POCO is still new and has limited features compared to the other. If you want just the basic stuff, then both will do the job, but if you are craving for advanced launcher features, then Microsoft Launcher is the app to download.
Conclusion
The article covered the fundamental topics of both. The comparison POCO Launcher vs Microsoft Launcher was written after testing both launchers on Nokia 8. I hope it helped; feel free to leave your thoughts in the comments so we can discuss more.
Madhsudhan is a professional software engineer. He has been writing for over two years, and he writes about Android and PC software.